Belfast is a beautiful city that's rich in historic culture and surrounded by stunning nature. With the causeway coastal route being so nearby it's an absolute must that you are staying for more than a day. You can hire your own car to drive or book a tour where you'll be given more in-depth information as you take in the incredible views along the coast.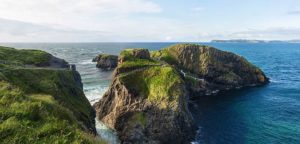 Carrick-A-Rede
This road trip has a lot of highlights but some of the most memorable include walking across the narrow rope bridge at Carrick-a-rede. It's a 20-meter bridge over a 30-meter drop with colorful blue waters below. You can also see Sheep Island from here which is heavily featured in Game of Thrones. Not to mention the spectacular trail along the cliff side with great views all around.
Cushendun Caves
Then there's Cushendun Caves to explore and the unmissable dark hedges better known as the king's road. Walking through the natural beauty of the dark hedges feels like you have stepped right through your television and into Westeros. We recommend stopping for lunch at a local Irish pub along the way and there are many that take advantage of the running theme.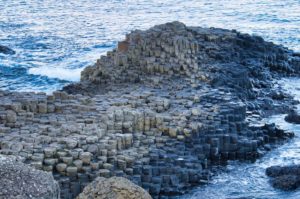 The Giant's Causeway
If you are in it for the scenery more than the popular culture, then there are plenty of places that don't feature an Iron Throne. After winding your way through the idyllic Irish countryside, you'll find yourself at the main attraction of the Giant's Causeway. This natural occurrence is often called the eighth wonder of the world. It was formed 50 to 60 million years ago by volcanic activity and features around 40,000 perfectly placed hexagonal rocks. It's hard to believe the feature isn't man-made. In fact, locals will tell you that a giant named Finn McCool who was building a bridge to fight his Scottish nemesis built the causeway. It's up to you what you choose to believe but you'll feel like you are on another planet standing on top of this unbelievable natural feature.
Crumlin Road Prison
If you really want to get into the heart of the city's history, then take a tour around Crumlin Road Prison. They'll tell you all about the troubles and the conditions inmates faced during their time in this literal hellhole. During its time in operation, it was home to executions, escapes, hunger strikes, and riots. Many of the people imprisoned here were innocent because you could even be held on suspicion alone and the laws at the time were so unregulated that mistakes were often made.
Cathedral Quarter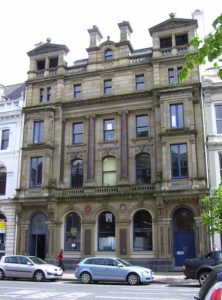 There are plenty of incredible places to lose yourself in Belfast streets. Check out the iconic Cathedral Quarter for some of the best bars in town. These picturesque streets are filled with everything from modern bars to good old-fashioned pubs.
St. George's Market
St. George's Market is a great place to sample some local street food and the crown liquor saloon is one of the most authentic Irish pub experiences you can have. It's a great place to stop for a rest when you are exploring some city's best sights. With the average price of a beer in Belfast being around 3 pounds or 4 dollars, you might end up having a few more than intended.
City Hall
Speaking of sights, the City Hall is a stunning building to explore with marble pillars, beautiful clay work, and colorful stained glass windows all around. You can pop in for a quick look or take one of the regular tours around the building. So if you have some free time on your hands that might be something to consider.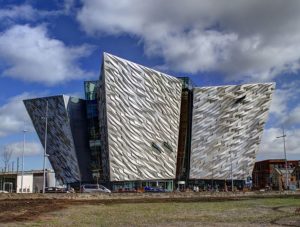 Titanic Museum
Then there's the Titanic Museum where you can learn all about the construction operation and voyage of the renowned ship. The detail here is incredible; it's a real eye-opening experience that shows there's so much more to this story than you may have seen in Hollywood movies. You can even step on board the SS Nomadic, the last remaining boat that was used to ferry people out so they could board the Titanic.
Black Cab Tour
There are many ways to see Belfast but to really see it through a local's eyes take a Black Cab Tour. You'll be driven around residential areas and taught all about the politics and religious conflicts that still burn strong today. There are murals all over these streets hailing local heroes and marking important events in history. The peace wall still stands today and divides different communities to help stop the ongoing conflict. Unlike the Berlin wall, Belfast peace wall still stands by choice. Many people in Belfast still want the wall in place because it makes them feel protected. However, others disagree and want it to come down. To this day, its gates are still locked at night to keep people safe.